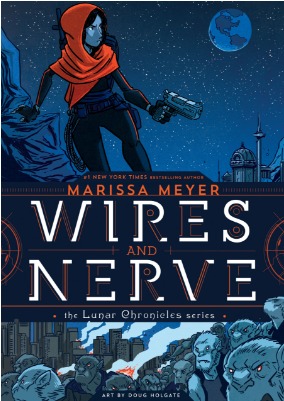 Title: Wires and Nerve, Volume 1
Writer: Marissa Meyer
Artist: Douglas Holgate
Series: Wires and Nerve (#1)
Published by: Feiwel & Friends (January 31, 2017)
Pages: 240 (Harcover)
Rating: 4/5
I knew that I was going to pick this book up as soon as I heard about it. I really enjoyed the Lunar Chronicles series, and so I definitely support any opportunity to spend more time in this world. Plus, it's a graphic novel? Yes, please!
*This review will contain spoilers for the Lunar Chronicles series, so if you haven't finished the books, I would not recommend that you read this review or this graphic novel until you've finished (unless you've already been spoiled for the ending.)*
This story picks up a few months after the end of Winter (but before the events of the short story "Something Old, Something New" in Stars Above) as Cinder is trying to navigate her role as Queen of Luna. When a pack of rogue wolf hybrids begin to threaten the delicate peace agreement between Earth and Luna, Cinder sends Iko, the badass android, to capture them.
"That's not necessary. I'm doing what any good friend would do, out of loyalty and Lunar patriotism and–"
"I'll buy you a new pair of shoes."
"Sold."
Iko was my favorite character in the original series, so I was especially excited that she was going to be the heroine of this story. She is such a fun, sassy, strong character, and her chemistry with a certain lunar guard is so wonderful. I love seeing her question her humanity and what she knows about love and loyalty.
"I misread the romantic tension, didn't I?"
I also really love seeing all the characters from the books. We get to catch up with Scarlet, Wolf, Cress, Thorne, Winter, Jacin, and Kai. I was originally a bit worried that the characterizations would be off in the series. But, I shouldn't have been. Each of the characters acted exactly as I expected them too. And this story felt like a natural continutation of their lives.
"This is Captain Carswell Thorne. He loves three things more than all others in the galaxy.
1. Himself.
2. His spaceship, the Rampion.
and 3. Cress, his genius computer-hacker girlfriend."
One of the biggest worries when seeing a story you love adapted as a graphic novel is the art. Will the characters look like I think they should? Will I recognize them? But, there is no need to worry here. The art is wonderful. It matches the lighthearted humor that Meyer does so well. The characters look like they did in my head, and the all blue hues are really lovely.
The only downside to this story is that I wanted more. Haha. Since its going to be a duology we have to wait a full year to get the concluding volume in this series. But, if Winter is any indication, I trust Meyer to wrap this story up wonderfully, and give my cinnamon roll Iko the ending she deserves!
Bottom line: If you love the Lunar Chronicles – this is a must read.