This week's topic is so much fun! It's all about what books we think will be considered classics in the future which is really interesting to think about. What makes a book worthy of being considered a classic? Are they books that people love? Or books that have been around forever – or that your parents/grandparents read to you? Or are they books that have a profound impact on the public? Or you personally?
So, here are the Top 5 books I think will be considered classics on day:
1. The Night Circus by Erin Morgenstern

The Night Circus centers around a magical competition between two talented illusionists – Celia and Marco – who have been training since childhood to compete in this game to which they have been bound. But, what Celia and Marco don't know is that only one can survive.
As the Night Circus travels around the world, the illusions and magical feats become more daring and impressive. And, eventually the two competitors learn of the other – and begin to see the game less as a competition and more a collaboration. And, their love develops from there. Unfortunately, they aren't in charge of their own futures which leaves all those involved in the circus in a perilous situation.

The Night Circus is one of my favorite books – its atmospheric, full of complex, fleshed out characters, and it has one of the most beautiful slow burn romances I've ever read.
Quote: "There's magic in that. It's in the listener, and for each and every ear it will be different, and it will affect them in ways they can never predict. From the mundane to the profound. You may tell a tale that takes up residence in someone's soul, becomes their blood and self and purpose. That tale will move them and drive them and who knows what they might do because of it, because of your words. That is your role, your gift."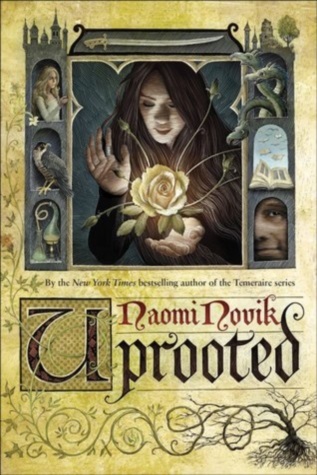 2. Uprooted by Naomi Novik

Agnieszka loves her home, but the Wood surrounding the valley have been corrupted and its shadow looms large over all their lives. Agnieszka's people rely on the protection of the Dragon (a wizard) to protect them. Every 10 years, the Dragon picks a girl from the village to come and live with him. Agnieszka has grown up expecting the Dragon to pick her best friend Kasia. But, he doesn't.
This book has such a brilliant atmosphere – its dark and mysterious. `I absolutely adore Agnieszka as a main character. And I especially love the ending – it gave me just enough to satisfy me while leaving me wanting more.
Quote: "I don't want more sense!" I said loudly, beating against the silence of the room. "Not if sense means I'll stop loving anyone. What is there besides people that's worth holding on to?"
3. The Bear and the Nightingale by Katherine Arden

This story follows a young girl names Vasilisa who lives on the edge of the Russian wilderness with her family. I love Vasya as a protagonist. She's a bit wild and completely uninterested in the traditional female roles being pushed upon her.
Life is hard in Russia, but Vasilisa manages to find joy in nearly everything. She especially loves the fairy tales her nurse tells them at night next to the warm stove. One of her favorites is that of Frost, the blue-eyed winter demon. But, when Vasya's mother dies, her father takes a new wife. And, her stepmother has no patience for the "old ways" and is quick to beat any rebellion out of her new stepdaughter. But, when a new threat is exposed, it will be up to Vasilisa to stop it.
Quote: "All my life," she said, "I have been told 'go' and 'come.' I am told how I will live, and I am told how I must die. I must be a man's servant and a mare for his pleasure, or I must hide myself behind walls and surrender my flesh to a cold, silent god. I would walk into the jaws of hell itself, if it were a path of my own choosing. I would rather die tomorrow in the forest than live a hundred years of the life appointed me."
4. The Fault in Our Stars by John Green

Hazel has terminal cancer. And, thought her tumor has shrunk – it is eventually going to kill her. But, when she meets the handsome Augustus Waters at a Cancer Kid Support Group Hazel's life gets turned up side down a bit. Hazel gets to experience both love and friendship like she never expected.
You should absolutely read this book, but be warned that it will make you cry all the tears. But, you won't be able to put it down. Hazel and Augustus are real, complex, fleshed out characters. You will fall in love with them, and they will break your heart.
Quote: "There are infinite numbers between 0 and 1. There's .1 and .12 and .112 and an infinite collection of others. Of course, there is a bigger infinite set of numbers between 0 and 2, or between 0 and a million. Some infinities are bigger than other infinities. A writer we used to like taught us that. There are days, many of them, when I resent the size of my unbounded set. I want more numbers than I'm likely to get… But, Gus, my love, I cannot tell you how thankful I am for our little infinity. I wouldn't trade it for the world. You gave me a forever within the numbered days, and I'm grateful."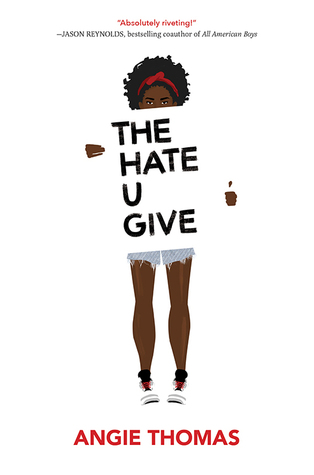 5. The Hate U Give by Angie Thomas

The Hate U Give follows the story of 16-year-old Starr Carter. Starr lives in a poor neighborhood, but attends school at a fancy prep school in a nearby suburb. Starr witnesses a police officer fatally shot her unarmed best friend, Khalil.
Khalil's death becomes a national headline – with people harshly divided on who is to blame. While some are calling Khalil a thug or a drug dealer, others are taking to the streets to protest. Cops and a local drug dealer try to intimidate Starr and her family. Though everyone wants to know exactly that happened that night, Starr is the only person who can provide those answers.
This book is incredibly timely. Inspired by the Black Lives Matter movement, this book tackles racism, police brutality, protests, and the lived experiences of people of color. It is already getting rave reviews – and I have no doubt that it will be considered a classic one day.
Quote: "Once upon a time there was a hazel-eyed boy with dimples. I called him Khalil. The world called him a thug.
He lived, but not nearly long enough, and for the rest of my life I'll remember how he died.
Fairy tale? No. But I'm not giving up on a better ending."
So what do you think? Will any of these be classics in the future? What do you think makes a classic?